I don't know how many times I've used the phrase "Miller Time" as my title, but I'm sure there will be a lot more times when I use it in the future considering Ryan Miller is such an important part of the Sabres coupled with the fact that I'm quite partial to him...if you haven't caught on by now. It's a pretty sublte admiration, I know...
I know it's early in the season but I've been so proud of Ryan and how he has been playing so far. A lot of people have been saying that they've been blown away by his performances so far, but I have to say that I'm not...maybe it was me being a little biased, but I expected him to come in this season and play the way he has been. Just because I know when Ryan says something, I can take his word for it...he knows how to back up whatever he says, which is pretty refreshing since we all know that talk is cheap. Whenever he plays a disapointing game, I'm always confident in him that he'll be able to bounce back. When he says he's going to focus on certain things in the offseason to ensure that he can compete amongst the elite goaltenders in the league, I know he's right.
And I don't want to turn this into a "I told you so" post, but I wish I could personally thank Miller because he's been proving me right to a lot of people I know who were doubting him and saying that I was just being a biased fan. Many people have said that I'm just too biased to think with a level head and to realize that he's not as good as I'm making him out to be. Au contraire, my little ones. I'm a pretty humble person by nature, so I don't like being blatant about it and saying "TOLD YAAA" but lately there's been a few of my friends that I've just had to sit back and say, "Sooo....Ryan Miller hasn't been too shabby, eh?" It's a nice feeling...
Anyways, I know it's still early in the season to be proclaiming Miller our messiah, but whenever I'm given the opportunity to have myself a Ryan Miller lovefest, I jump on the occassion. And I still think that he deserves credit for his performances despite the fact that we're only about a month into the season.
Speaking of which...link time! Here is a nice round up of some Ryan Miller lovin' floating around the internet:
- WGR 550 has
an interview up with Ryan
from a few days ago when he appeared on the Howard Simon Show. Ryan talks about the season so far, Catwalk for Charity...and he shares a cute story about Halloween from several years ago.
-
NHL.com has a story
talking about how Miller looks Olympic-ready. There's also a quote from Martin Brodeur where he talks about being impressed with Miller...pretty nice! I also like Ryan's sassy quote that reads,
"That level should be good enough to make the U.S. Olympic team because I consider myself the kind of goalie who can challenge to be tops in the League. If that's not what they're looking for, then OK."
Gotta love it...
- Buffalo.com has a
video interview up with Ryan
discussing Catwalk for Charity. I like how Ryan points out that it's a great chance for fans to get more up close and personal with the players and be sociable with them. This makes me feel better because there's always a small part of me that thinks I'm being a nuisance when I go up and talk to the players at Catwalk. Whenever I see them out and about and away from the arena, I always try to leave them alone just because I think they deserve their privacy and they don't need to be bothered by fans 24/7, but at Catwalk it's a good time to socialize with them and it's fun for me.
I'd also like to add that I was loving the sassy side of Miller coming out again in last night's post-game interview when he talked about the refs not calling any diving penalties. I know the players and the coaches aren't supposed to criticize the officiating or they can get fined, but it was pretty badass of Ryan to say something... I also liked Harry Neale's comments when he said that the Leafs player should find a job in Hollywood since he did such a good job with the embellishment.
And this concludes my Ryan Miller lovefest...I'm sure there will be plenty more in the future, I hope you enjoyed it as much as I did...
Oh, and I must not forget the ~official seal~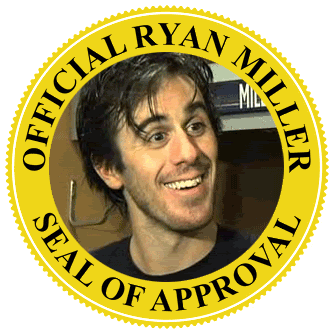 Hope everyone has a fun Halloween!