So it's been a little while since I've updated. Firstly, thanks to everyone who wished me a happy holiday. I appreciate it. I hope everyone enjoyed their holiday.
My Christmas was nice and I had a good time with my family. My Aunt who lives in India was in town and I got to hang out with my adorable cousin, Amartiyah. He's around 6 years old and he's so smart. I get such a kick out of him. I am really intrigued by the Indian culture and hopefully if all goes according to plan I can visit my Aunt in India next summer. I'd love that. I'd be in photographer heaven. I just love everything about their culture. I love the music, the food, the clothing, the history... it's a whole new world to explore. Anyways, my Aunt brought me some bindis for me and I love them!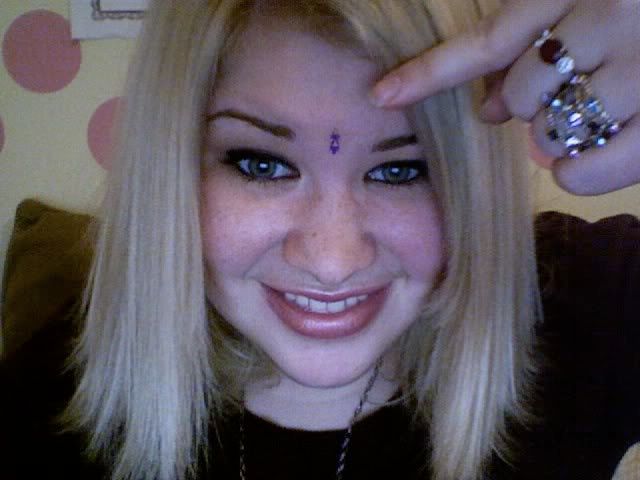 Aww yeah!
So the main reason that I haven't really updated is that my younger brother has fallen seriously ill. He got real sick on Christmas and the day after he was admitted into Children's Hospital. I've been a little out of sorts over it and it's been a hectic week. Things were getting a little scary but fortunately he has been getting better. Slowly but surely he is starting to look like my little brother Andrew again. I think the worst is over with and he's on the mend so I am thankful for that. I can finally breathe again.
Anyways, so the one thing that helped me forget about my brother's illness was some of my favorite comedy (Chris Rock and Curb Your Enthusiasm) and hockey of course. I went to the game tonight. There's a whole lot I can say about it, but you know what? I had fun. I needed to blow off some steam and I said to myself before the game, "Win or lose, I am going to have a good time." And I did. I would have liked to have seen a better effort from the team, but I am not going to get too hung up over it as much as I usually do due to the circumstances. I usually go to the games with my little bro, but since he's in the hospital I took my friend Scott. Maybe that's where we went wrong, since I can't recall a single time the Sabres have won a game when we have been watching them together. I blame myself. Oh and it's official: Ryan Miller now has a beard. It's not scruff, it's a
beard
and I am loving it. I hope he doesn't shave that shit until after Catwalk for Charity. He probably will. I'll keep my fingers crossed.
Lookin' mad earthy boo.
Sorry if you were expecting this post to be full of insightful knowledge about hockey and the Sabres, honestly it's just an entry of me rambling. I'll get back on track after the new year...