...is the NHL Network playing Game 7 of the 05-06 Eastern Conference Finals? Not cool. I caught a few seconds of it and it reminded me how amazing Miller is during the playoffs. I couldn't bear to watch the rest of the game...lots of great memories during that run, but lots of memories that I don't want to remember. But it did remind me how intense playoff atmosphere is. There's nothing quite like it. But that is neither here nor there, since it's only October. Playoffs?! Don't talk about playoffs...
So instead of watching the rest of that game, I decided to re-watch the highlights of last night's game against Tampa. I literally screamed when Myers scored that goal in the shootout. Who would've thought that game would end in such exciting fashion? I know I didn't. It was
one of those games
that you thought was going to end in frustration...but the final seconds of each period sure didn't disappoint.
I was also looking forward to this game because I think it's neat when Ryan gets to play against his brother, Drew. It's always fun to watch siblings compete against each other in professional sports.
St. Petersburg Times also had a cute story
about the Millers playing against each other, with quotes from both Ryan and Drew and their parents talking about ~childhood memories~.
And a big thanks to the Millers for sharing this precious photo with all of us: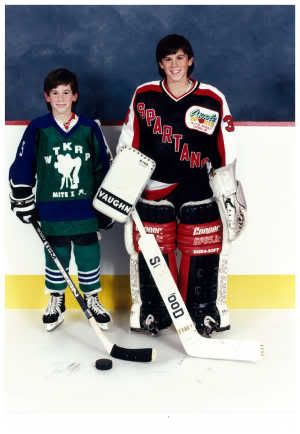 Awww...they're just babies. :')