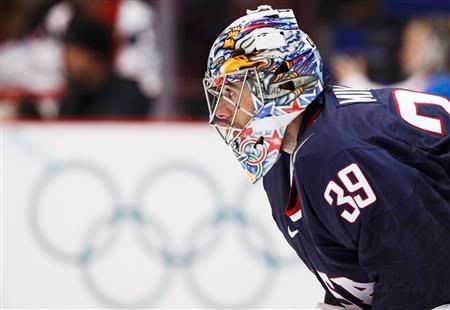 Well the Olympics are in full swing and I am officially caught up in the Olympic hype! I think the shootout against Canada and Switzerland sparked it. The fact that Team USA is leading their division is pretty damn cool! I'm so excited for the USA-Canada match up on Sunday. I remember when the schedule was released a few weeks ago, I made sure to book off work on Sunday to ensure that I would be able to catch the game live.
Unfortunately I only got to watch the first period the USA-Norway, so I missed the glorious moment when Ryan got an assist! Man, first I was blown away when he made his first Olympic save, but now he has his first Olympic
point
. It can only mean one thing which is that he is now clearly an offensive threat and Team Canada better be prepared.
Anywayssss.. Aside from the hockey, the other sports that I have been enjoying the most is figure skating and snowboarding. I was real happy for the Chinese pair to win gold, it was a cute story to see how they put married life aside to train in hopes of finally winning a gold medal in their very last Olympics, so it was a feel-good story to see them win. And then there is Shaun White...need I say more? One thing I will say about him is that I am extremely jealous of his hair. One day, I hope I get the opportunity to run my hands through those glorious locks. The locks of a champion!
So perhaps Team USA got a little extra confidence knowing that they are leading their division...and I think some Canadians might be a little nervous seeing their team going to a shootout against the Swiss. It's funny how people overreact to things... Some of my Canadian friends were definitely overreacting saying how Team Canada sucks and so does Brodeur, and the some Americans (myself included) are all , "OMG TEAM USA AND RYAN MILLER! AMERICAN HERO!!" But that's the fun of it all...getting caught up in the hype. It's the Olympics, and anything can happen when it's one game.
By the way, Therese Forton, the woman who organizes Ryan Miller's Catwalk for Charity events every year, has
started a blog
where she will be reporting from Vancouver and she is giving all of her readers a behind-the-scenes look into all the action. After only a few updates, she's already shared some pretty fun info that you won't get anywhere else. Like how she helped send Ryan off to Vancouver by driving him to the airport and how she cooked him his last meal. She also has really cute pictures up of Ryan's family after the USA-Norway game, where you can see Ryan's mom wearing the coat that she sewed specially for the Olympics that was discussed in
this story
from the Buffalo News. Looking forward to her updates throughout the Games!
Can't wait for Sunday...