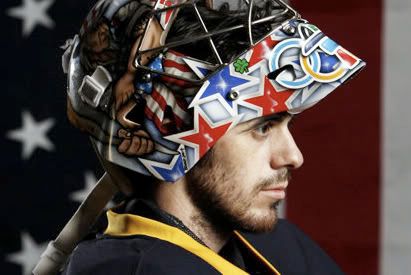 Over the past few weeks, pictures of Miller's Olympic mask has floated around the internet and I think the overall consensus was that it was a pretty badass mask. The image of Uncle Sam rolling up his sleeves and getting to work is a great representation of Team USA and the vibrant colors will surely make it stand out. Like Ryan's other masks, the back is where it gets the most personal: the slogan "Miller Time" makes its normal appearence, as well as a tribute to his cousin, where "Matt Man" is written... I think I can speak for most fans when I say that I always think it's neat to look at the personal side of a goalie's mask, but apparently the IOC thinks differently...
This article
says that Miller's mask has been ruled against Olympic rules. The IOC does not approve of the "Miller Time" slogan, since it's the same slogan as Miller Beer, and I can understand the sentiments behind that... Apparently Jonathan Quick's mask is also under scrunity because it says "Support Our Troops" on the back, because political messages are prohibited by the IOC. But they also do not approve of the "Matt Man" tribute to his cousin, which I really don't understand. The article says that Ryan doesn't really mind that the IOC isn't approving the appearence of "Miller Time" on the mask, but it says that he's petitioning to keep the "Matt Man" tribute.
I say good for Ryan for petitioning to keep it... We all know how much of an impact Matt's legacy has been for Ryan, and I think it would be a shame if he can't showcase a tribute to someone so important in his life in such a large spotlight like the Olympics. Here's hoping that he gets to keep it on his mask.
With all of this mask hoopla aside, I'm very excited to see Ryan compete in his first ever Olympic game tomorrow against Switzerland. I had originally thought I was going to miss the game because of class, but then I found out that Buff State has unneccessarily given us Tuesday off as well so we can have a ~President's Day recess~, rather than having a day off just on President's Day. So thanks, Buff State! I owe you one (actually no, I don't...you will forever be indebted to me every single time you make me late for a class because I can't find a damn parking spot). Channel 2 News is going to have features of all of our Sabres that are going to be participating in the Olympics, and tonight they kicked it off with a feature on Miller and it got me all excited for tomorrow! I'm not sure if the actual feature is posted on their website, but
here is a video
that shows clips of Miller addressing the media after arriving in Vancouver.
Tomorrow's the big day...