Oooh, RJ...you always know how to make me chuckle. Seriously though, I was thoroughly enjoying Marty's cranky mood last night. It was pretty obvious he was in no mood to deal with Kaleta's shenanigans. I think they should just always keep a person like Marty mic'd up, because I really would liked to have known what he was saying to Kaleta when the two were hugging, dancing, or whatever you want to call it.
I also liked how Miller said in his post-game inteview that he'd be too busy laughing to be able to throw a punch in on Marty if they were ever to fight. There are few things I love more in this world than a goalie fight...and one of these days I'd like to see Ryan mix it up, despite him being reluctant to just because he's a skinny guy. But a Marty-Miller match up would just be hilarious...and it will probably never happen. I am confident when I say that I think Ryan would do some damage to his opponent regardless of his stature, just because we all know how crazy scary he can get when he's pissed off.
The best part of this picture is the reaction on the crowd's faces.
Anyways...I don't have much to say about last night's win...other than I'm just really liking how the Sabres react after a loss. Granted, they've only lost twice in regulation so far, and while no one wants to see them lose, in an 82-game season, it's going to happen. What I'm more interested in is how the team reacts to a loss, and so far it's been pretty reassuring.
It's another big weekend for the Sabres as they will take on the tough Philadelphia Flyers and another division rival, the Boston Bruins. What will be interesting is to see Enroth...Lindy hinted that he'll most likely see playing time this weekend if Lalime is still out. And with another 3 games in 4 nights scenario, it would be best to give Ryan a break. So far Enroth has been struggling in Portland, so it'll be interesting to see how he and the rest of the team fairs with him in net. Oh, and they better play "My name is Jonas" by Weezer in the beginning of the game, should he start against Philly...or whenever his first home game start should be. It just has to happen, ok.
OH and before I forget...I finally took some pics of myself in the dress that I'm wearing to Catwalk for Charity this Sunday. Ch-ch-check it out: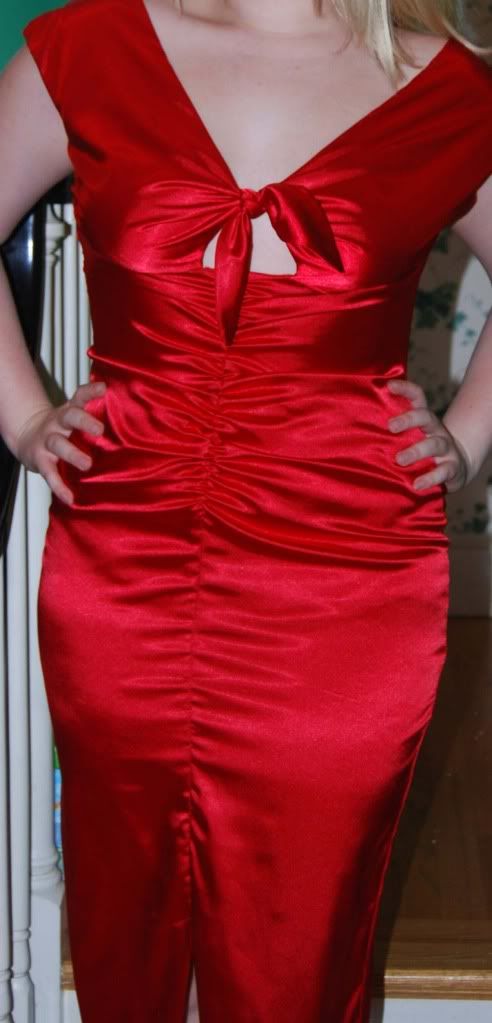 Sooo naturally I'm pretty damn excited for Sunday...I'm getting my hair done to complete the Marilyn transformation.
Here
is what the original dress looks like, incase you don't remember.
Ahh...so Ryan Miller gets a shutout, the Goose scores, Marty decides to go all berserk on us for a little bit, and I'm going to be getting my Marilyn on with some Buffalo Sabres on Sunday. All is well.