Today definitely has not been
my day
. First of all I'm sick...and I've been progressingly getting better...up until yesterday when I woke up feeling worse than ever. Today I didn't have much luck either. Still pretty sick. But I had a paper to turn in, so I had to go to class. I couldn't get through the whole day though, so I left shortly after my first class. Between me being sick, there have also been other things going on in my life that is just really knocking me on my ass emotional-wise. I don't feel too comfortable going too much into it, but I am just very rattled at the moment. Very shaken up. I am hoping that writing this and listening to music will help me out.
Thank god there was hockey on last night...and thank god we won. It was a nice road win. During the first ten minutes I thought we were in for another long night, but Miller made some nice and timely saves until the team woke up. You know, I wanted to feel bad for Pogge, I really did...but we're just in no position to feel bad for anyone else right now. Speaking of Pogge, a few bloggers out there have said how much the name Pogge reminds them of
pogs
. It got me thinking of what other player's last names remind me of. I don't know about you, but Paille's name will always remind me of
paella
...but that's probably my Spanish roots coming out. Speaking of Mr. Paella, it was nice to see him score last night...almost forgot about you for a second, buddy!
I am kind of glad that Gerbe got sent down...I'm not surprised. I think he needs more time down in the AHL to work on his speed and his hand eye coordination. He'll be NHL ready all in good time, I'm sure...but I think he needs to be down in Portland for a little longer. The second reason I'm glad that he's being sent down because it most likely means that we're getting Paul Gaustad back. Hell yes to that. We seem to be a much better team when he's in the lineup. Let's celebrate this news with a lovely photograph, shall we?
Lovely...plus I said that I'm not having a good day and I think I've mentioned on here before that this picture always makes me feel happy.
Ahh, that was refreshing. Well anyways, there's always talk about how certain games are extremely important...and they're all going to be important from here on out. Tomorrow night against Philadelphia is certainly no exception. With four teams currently with 66 points which is good enough to be in 5th place, a win tomorrow night would be huge. It would not only possibly give us sole position of 5th place (if both the Habs & the Rangers lose tonight and other teams lose tomorrow night as well), but we'd be closing the gap between us and Philadelphia, a team that we could possibly catch. It's going to be one wild ride all the way up until game 82. With all this postseason talk, it's not surprising that my order form for playoff tickets came in the mail today. The thought of a Stanley Cup playoff game played at the HSBC Arena gives me chills. It's one hell of an atmosphere around this city when the postseason rolls around. It's great. It comes right at the perfect time. Right at the start of spring and going into the early months of summer...it's a wonderful time of the year.
Well, that last picture of Ryan and the Goose made me feel so good, that I think I should treat myself (and my dear readers) to another gem.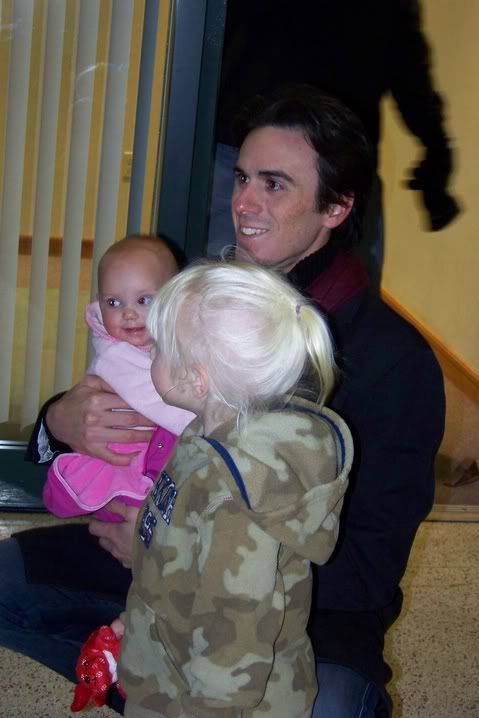 I will always love this picture.
Not only is this picture absolutely adorable because it's of Ryan Miller holding a precious baby...but that baby is just
awesome
. She's amazing. She's being all sassy and posing and you
know
she's thinking, "Hell yeah I'm being held by Ryan Miller right now,
jealous
?" Her parents should be very proud.
I saw Slumdog Millionaire again last night and I am currently listening to the soundtrack on repeat. I love that movie. I also really want to see Coraline, The Wrestler, and Mall Cop (shut up...I'm allowed to enjoy stupid humor).